Celebrating Women in Motorsports
Today, March 8, is International Women's Day.
International Women's Day was created in 1911 to celebrate women's social, economic, cultural, and political achievements. The day also marks a call to action for accelerating gender parity. So many industries are still lagging in participation from women. Motorsports is still a male-dominated industry.  In honor of this year's IWD theme, Break the Bias, this article will profile women who have shattered the glass ceiling in motorsports and continue to break biases throughout the industry.
The Original Woman in Motorsports: Maria Teresa de Filippis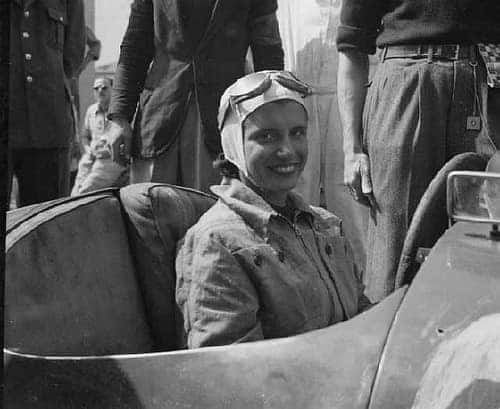 Maria Teresa de Filippis was the first woman to ever compete in Formula One. She competed in five grands prix between 1958 and 1959. During this time, society expected women to take care of the home and the children, not race cars. The Naples native started racing cars at 22 years old. Her brothers bet that she couldn't drive fast. She proved them wrong. De Filippis won her first race along the Amalfi Coast in a Fiat 500. Maria was only banned from one race during her career. At the French Grand Prix, a race director said " the only helmet a woman should wear, is the one at the hairdresser". She said she never experienced much prejudice during her career, only surprise at her success.  While her career was brief, Maria's legacy opened doors for women in motorsports.
Lella Lombardi: A Team of Her Own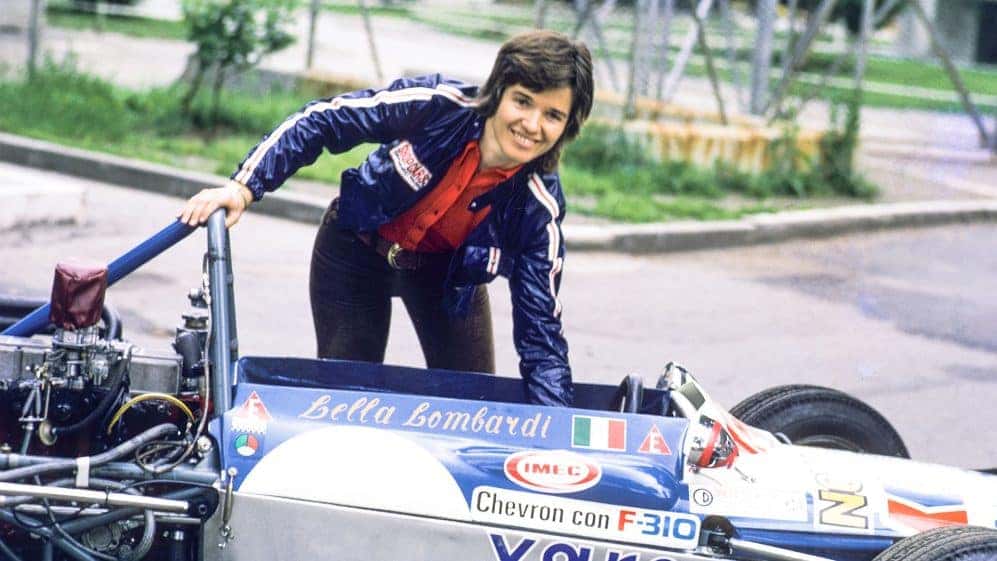 One woman who benefitted from Maria's door opening was none other than Lella Lombardi. Lombardi was the only female driver to ever score points in a  Formula One Grand Prix. In 1975, Lella Lombardi finished sixth at the Spanish Grand Prix. The race had a major accident that ended up killing five spectators. Officials shortened the race from 75 laps to 29 laps. As a result, race officials awarded half points. Lombardi finished in 6th place with a half-point. Lombardi rose from a lower-income family where her father was a butcher.
She began her career karting and purchased her first car to participate in Formula Monza. Her racing career was littered with challenges. While she qualified for many races, Lombardi was unable to compete since she experienced car troubles. Yet, this did not deter Lella. Lella Lombardi finished in 9th place at the 24 Hours of Le Mans in 1976 using a Porsche Carrera. She participated in the 24 Hours of Le Mans four times.  In 1989 she founded her racing team, Lombardi Autosport. Unfortunately, Lombardi's career was short. In 1992, Lella passed away from breast cancer, just shy of her 51st birthday.
Sabine Schmitz: Queen of Nürburgring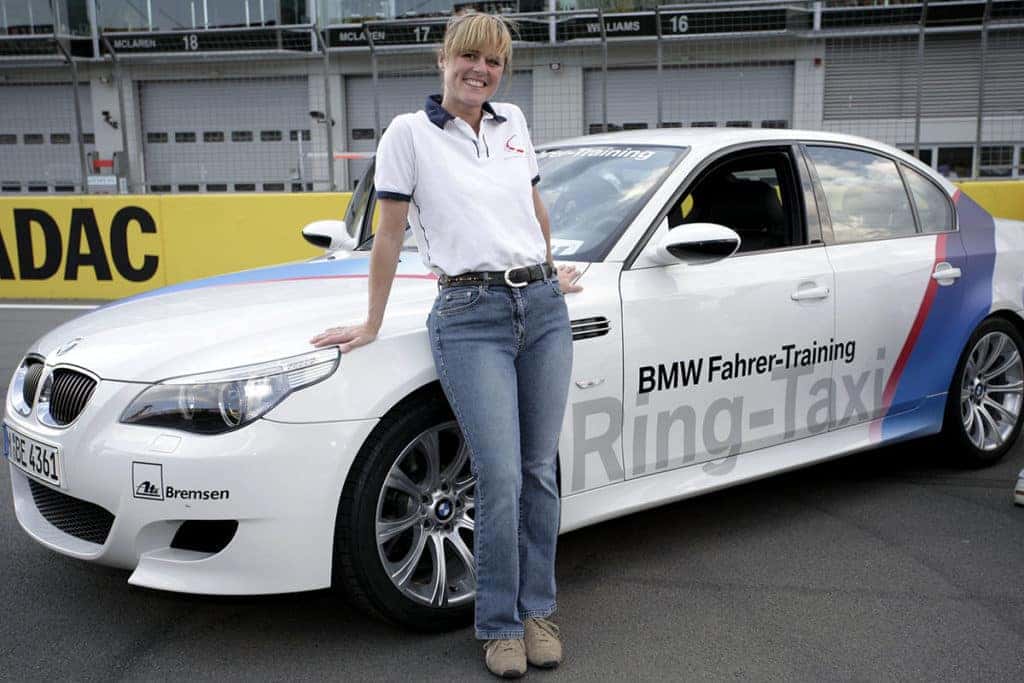 Anyone familiar with Top Gear TV will know about Sabine Schmitz. Schmitz completed tens of thousands of laps at the infamous German Nürburgring race track. The Nürburgring track has claimed over 200 lives throughout its history, making it one of the most intense tracks used in Formula One. Motorists take it on in large numbers each year because it offers a proper challenge. There are long and fast straights, banked corners, bumpy and jumpy parts, hairpin bends, and rises and falls around 1,000 feet as you go round it. One lap is nearly 13 miles long. Nürburgring is known as the greatest test and driving track. No two corners are the same.
Sabine grew up near Nürburgring which inspired her to become a driver for BMW and Porsche. Sabine wasn't the only female racer in her family. All three Schmitz sisters took up racing after occasional family drives on the Nordschleife. Unfortunately, Sabine was the only sister with notable victories. Sabine rose to fame with her famous M-5 ring taxis. Sabine estimates that she's driven around Nürburgring approximately 20,000 times. Sadly, Schmitz passed away after a long battle with cancer in 2021. The Nürburgring have renamed the first corner of the Nordschleife loop as the "Sabine-Schmitz-Kurve" posthumously in her honor.
Danica Patrick: IndyCar Queen of Women in Motorsports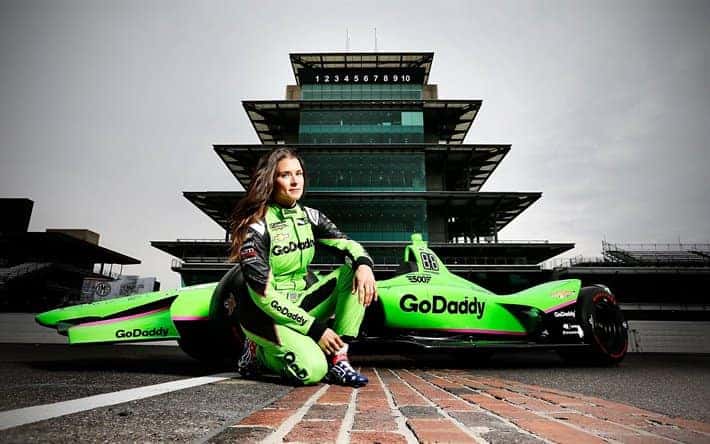 Danica Patrick grew up in a working-class family from Wisconsin. She first began her career in karting at the age of 10. Danica won the World Karting Association Grand National Championship three times. She is the first and only woman to win an IndyCar race. Patrick spent nearly all of her career in the States, claiming poles and podiums in both IndyCar and NASCAR. Rumors swirled that Danica Patrick would be joining Formula One. However, Patrick did not transition to Formula One as she thought she was too old to try a new type of racing. Patrick remained in IndyCar and Nascar racing for the rest of her career. In fact, she officially retired from the sport in 2018 after competing at the Indianapolis 500.
Susie Wolff: Dare to be Different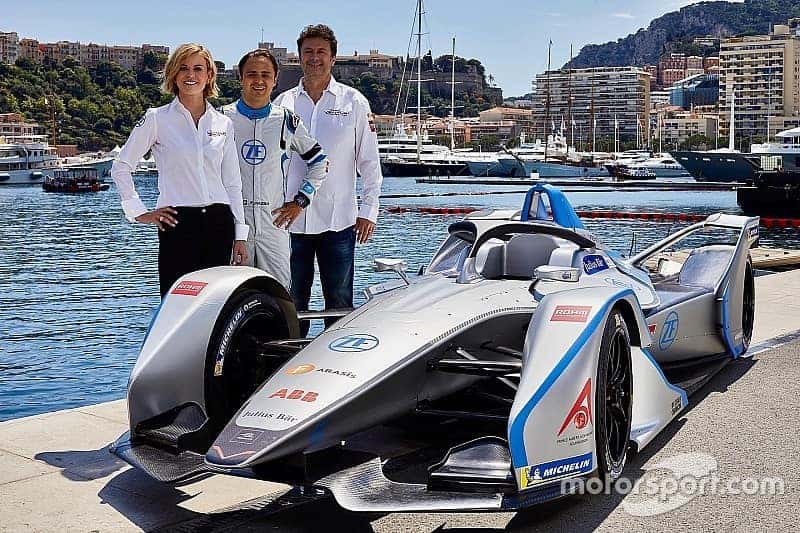 Susie Wolff began her motorsports career by racing bikes competitively with her father, who owned a motorcycle dealership. In 1996, Wolff was named British Woman Kart Racing Driver of the Year. She began karting at the age of eight years old. Susie eventually graduated to Formula 3 and Formula Renault. She was the first woman in 22 years to compete in Formula One after signing with Williams. Wolff was a Formula One analyst for Channel 4 in the UK after retiring from the sport.
Wolff drove in DTM (Deutsche Tourenwagen Masters) for seven years and earned a testing and development role with Williams in 2012, later taking part in four GP weekends for the Grove outfit. During her time as a pro driver she beat the likes of Lewis Hamilton, Paul di Resta, Mika Hakkinen, Ralf Schumacher, Tom Kristensen and David Coulthard at various points in her career, hanging up her helmet for good in 2015. These days Wolff is the CEO of a Formula E team, having founded the Dare To Be Different initiative to encourage women to pursue a career in motorsport.  Wolff shows that you don't have to just be a driver to be part of women in motorsports.
The Future is Female: Samantha Tan, Laura Camps Torras, and Maya Weug
Samantha Tan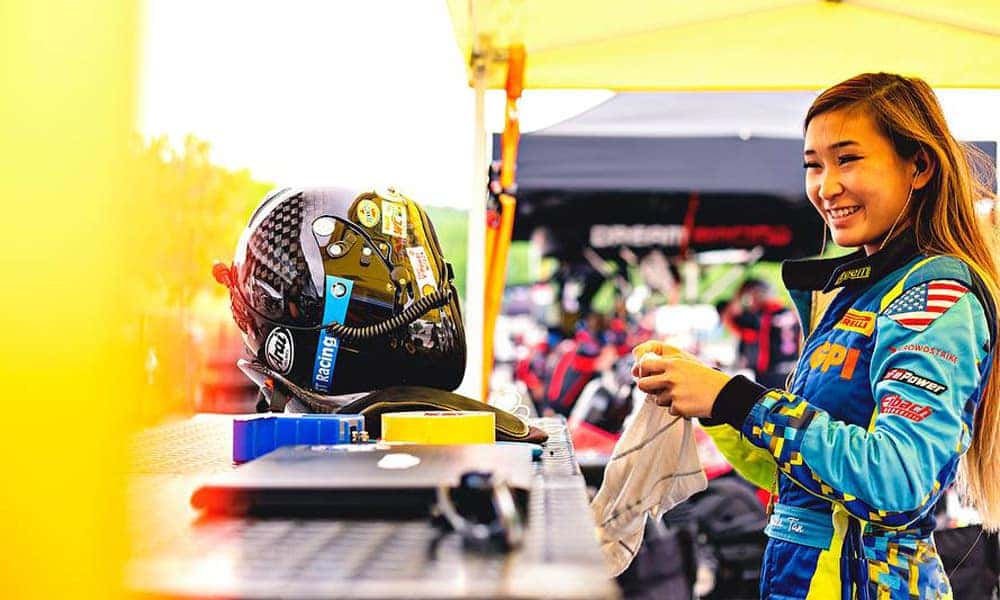 Samantha Tan is an up and coming race car driver breaking barriers in the Pirelli GT4 racing series. The Chinese-Canadian racecar driver runs ST Racing. The team races high-performance factory built BMWs in a myriad of formats across the globe. Recently, Tan and her team won the 2021 Pirelli GT4 Championship. She developed a passion for cars when she was five years old. Tan's father taught her fundamentals in her electric toy Jeep. Her first time on the track was when she was 13 years driving a 458 Challenge. Her love for Ferraris comes from her father who is a collector in his own right.  This past weekend, Tan debuted at Ferrari Challenge were she poled and won first place in the Trofeo Pirelli AM series. At only age 23, Tan is making a name for herself in the sport.
Maya Weug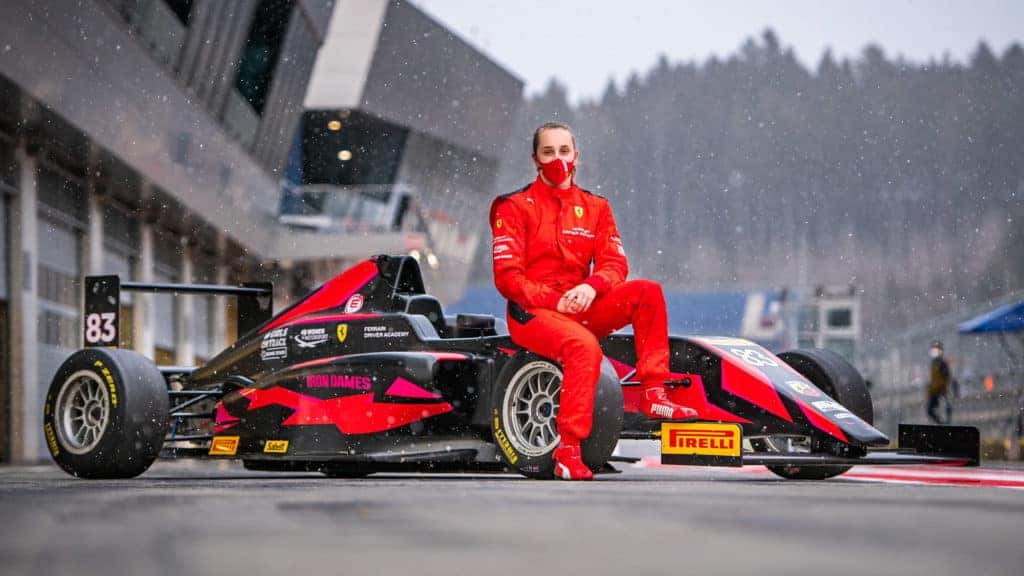 In 2021, she already made history, becoming the first girl to join the Ferrari Driver Academy. The Dutch girl born in Spain with a Belgian mother and Dutch father won the finals of the FIA "Girls on Track-Rising Stars" program, set up by the FIA Women in Motorsport Commission, along with the FDA, aimed at promoting women in motor sport and supporting promising youngsters from the ages of 12 to 16 in their aim to become professional racing drivers.
Maya began karting at the age of seven and a half and in 2013 she was already racing against much older children in Spain, where she stayed until 2015. The following year, she moved to Italy, while in 2017, she made her debut in European karting championships in the OK Junior category. At the start of 2020, she was one of 20 candidates for a place in the FDA and took part in the Girls on Track – Rising Stars program. Maya did well enough to reach the finals with three other girls and was picked as the best on the basis of her outright performance in the car, her hard work and ability to take on instructions she was given.
In 2021, she made her single-seater debut in one of the most competitive Formula 4 Championships, the Italian one. She raced with the Iron Dames-Iron Lynx team and also did a few rounds of the German series, finishing ninth in Spielberg. In Italy, her best result was an 11th place finish in the second Vallelunga race and she ended the year seventh in the Rookies Cup. She is following the same program in 2022.
Laura Camps Torras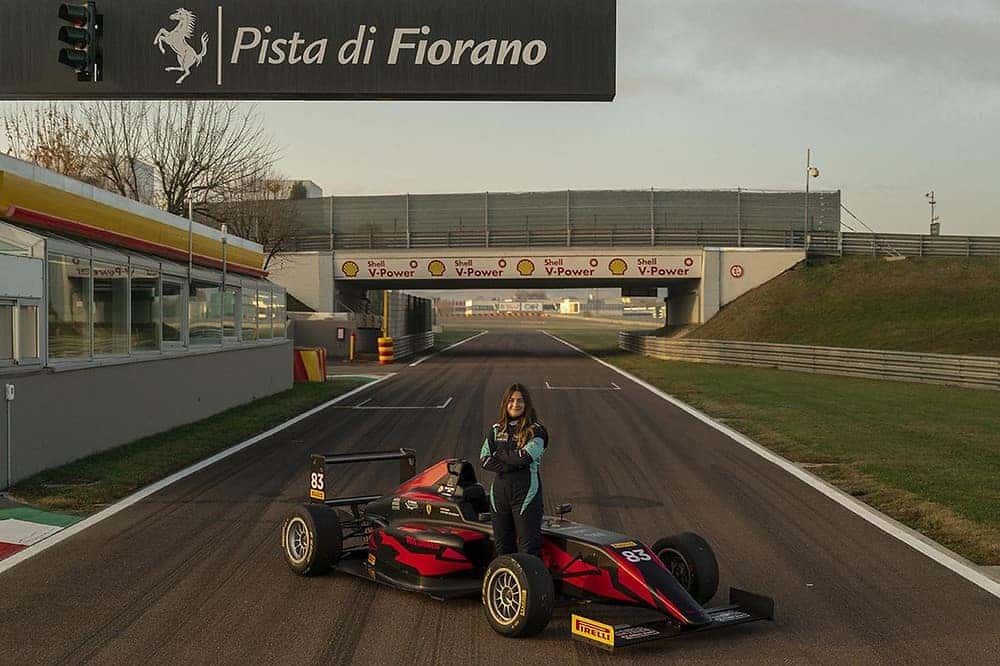 Laura is the second female to join the Ferrari Driver Academy. She won the second edition of the FIA Girls on Track -Rising Stars program. This FIA Women in Motorsport Commission initiative, run in collaboration with the FDA aims to promote women in motor sport and support the most talented young girls between the ages of 12 and 16 on their path to becoming professional racing drivers.
Laura got her passion for racing from her father, who influenced her choice of Michael Schumacher as her favorite driver. She first drove a kart at the age of ten. By her own admission, it was not a case of love at first sight with motor sport, but her interest grew gradually to the point where it became a life choice. To date, Laura has only raced in karts and continues to do so in 2022. However, she will also take part in several tests at the wheel of a Formula 4 car to learn about single-seaters in preparation for a debut next season. In our opinion, she is definitely one to watch.
Start Your Legacy: Become a Woman in Motorsports
The race track domination does not have to end with these women. Ferrari offers a driver program called Corso Pilota. This course teaches fundamentals for Ferrari owners to own the track and the road. The course progresses from beginner-level courses called Sport to advanced racing training courses called Challenge. After finishing the Challenge course, Ferrari invites participants to join an exclusive group of Ferrari owners. These Ferrari drivers participate in a series of races named Ferrari Challenge. Contact our Corso Pilota director, Cody Marks for more information. You could be the next woman in motorsports.