Love Your Ferrari? Take It to the Next Level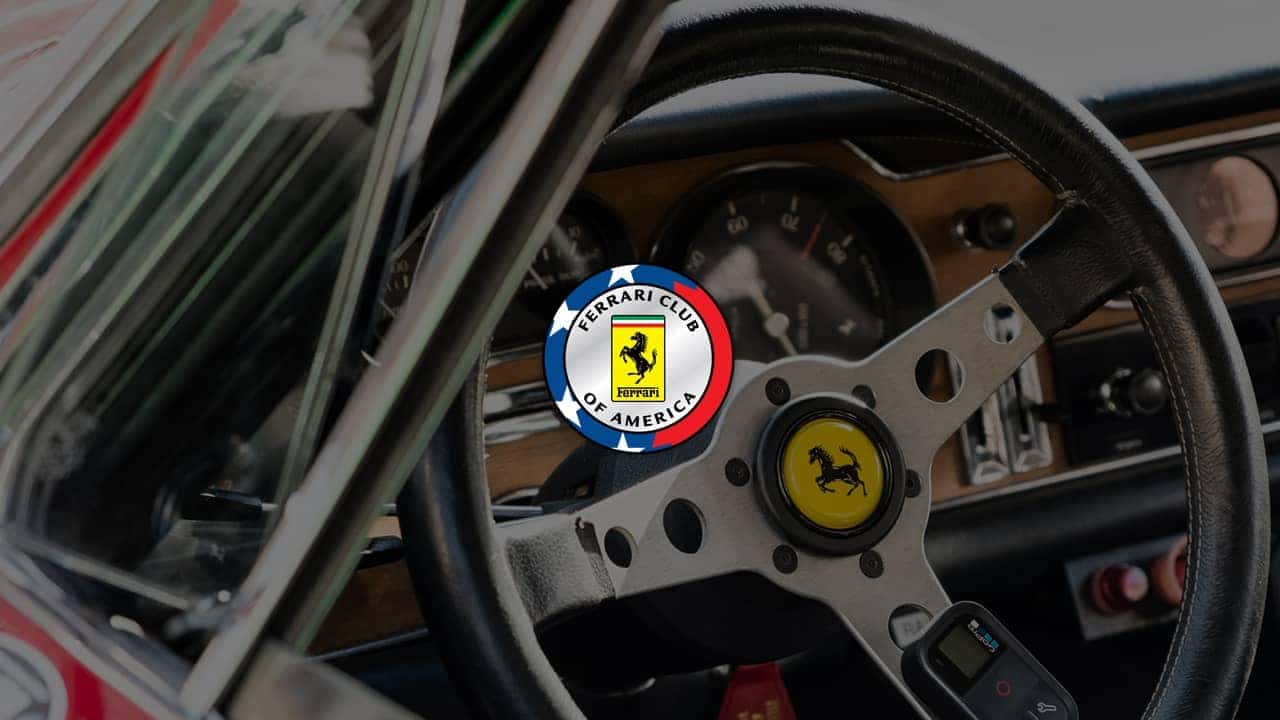 The Ferrari Club of America is the biggest Ferrari club in the world with 16 chapters throughout the United States and Canada. This large community of Ferrari enthusiasts gathers regularly to celebrate their love for the automobile.
The club was founded in the early 1960s. During that time, Ferrari was not a household name and its fans primarily were a small group of racers who drove imported Ferraris. When three men at a race in Wisconsin looked under the hood of a beat-up Ferrari Barchetta and found a Chevrolet engine, they decided that action needed to be taken to promote the conservation and refurbishment of Ferraris.
Eventually, they worked with other Ferrari enthusiasts to start the Ferrari Club of America. Their first meeting was at a fan's house in Fort Wayne, Indiana. They wrote bylaws and job descriptions for club leaders, created a club logo, and officially incorporated, all with the full support of Ferrari.
Following a mailing to potential club members and an article in Road & Track magazine, the club quickly grew to 200 members by 1966. In its early days, FCA began publishing its Prancing Horse magazine. It also held its first major event, a weekend in Detroit attended by 32 members and guests showcasing 12 Ferraris.
The club got an additional boost with the publication of "Ferrari, the Sports and Gran Turismo Cars" by two club members. This set off years of steady growth into a well-established club.
How to Join
FCA is open to people living in any country in the world. You do not have to own a Ferrari to join (although 95 percent of the membership does). Many new members become part of FCA to further research and find a Ferrari of their own. All members should be enthusiastic about Ferraris, regardless of whether they park one in their garage.
The club application can be filled out online, or potential members can join by calling (720) 328-2856, ext. 50. Annual membership dues are based on FCA region and range from $115 to $150.
Members receive membership cards each year on the anniversary of their joining date. Members can also check the status of their membership online through FCA's protected database.
Membership Benefits
FCA membership offers an enriching experience for the Ferrari enthusiast. Benefits include:
A subscription to FCA monthly news bulletin. This includes a calendar of events, F1 coverage, and free classified ads for members.
A subscription to the Prancing Horse, FCA's color quarterly magazine. It features in-depth interviews, coverage of Ferrari gatherings, write-ups about Ferrari museums, and other articles covering Ferrari news and models. Miss an issue? The FCA keeps back issues of the Prancing Horse and sells them to members for $20.
Access to the online Regalia store. The website sells apparel for women, men, and children along with pins, stickers, books, decals, and movies.
Inclusion in special discounts, promotions, and events, such as exclusive Ferrari factory auto shows and Formula One test sessions. Other member discounts include 10 percent off parts and labor at all authorized North America Ferrari dealerships and 20 percent off on new, online subscriptions to the Ferrari Market Newsletter, which advertises more than 200 Ferraris in its bi-weekly issues.
Access to the club's technical committee, which responds to members' questions in an online technical forum.
Club Events
One of the biggest advantages of FCA is the connections members can build with other Ferrari owners and enthusiasts. The club's events calendar lists happenings by region, and members are welcome to attend any event regardless of their home region.
Events often include the whole family, such as an upcoming "Ferraris and Family" at the Hilton Oceanfront Hotel in Daytona. It includes an overnight stay and two group meals. This summer in Hartford, members will meet up at the Wisconsin Automotive Museum for a "round robin" tour of homes and car collections.
Each year, the club also hosts an "Annual Experience," a national event held in a different major city in North America that's close to a road racing track. The events are centered around the North American Field and Driving Concours, an annual gathering to display and evaluate Ferraris. They also include a driver development track event, socials, banquets, and competitive and pleasure rallies.
FCA chapters host Concours events throughout the U.S. and Canada each year. The club's International North America Field and Driving Concours during the annual gathering is a highlight for Ferrari owners. New and older cars are eligible for awards, including the Futuro Classico for cars less than five years old. Only 10 cars are accepted for evaluation in this class.
Older Ferraris can compete for a variety of awards. For example, the FCA National Classic Preservation Award celebrates cars that have been maintained to as near to original condition as possible. Another category is the Coppa Bella Macchina, which recognizes cars that are in "exceptionally good working order" with all components and accessories performing as they did when released from the factory.